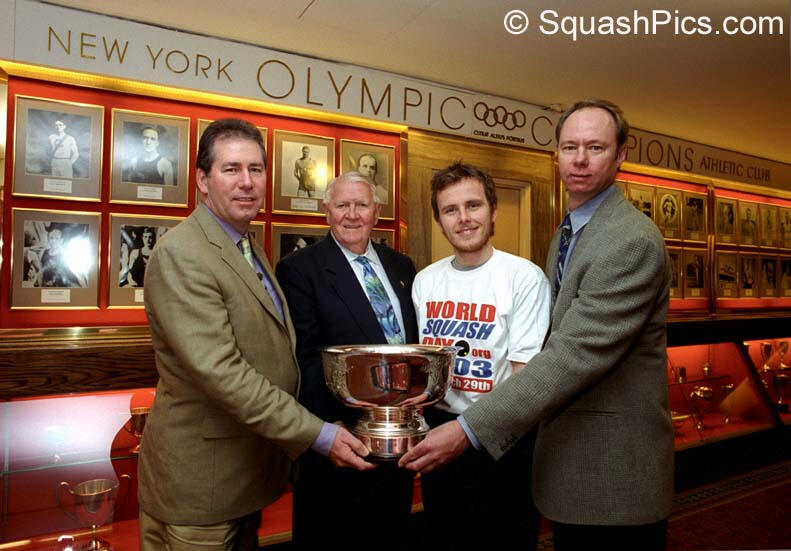 World Squash Day was launched by a group of squash friends following the 9/11 attacks in the USA.
Many New York squash players were killed in the World Trade Center, including Derek Sword, a former Scottish junior international from Dundee.
We launched World Squash Day in their honour, and also to do something tangible for the game. Peter Nicol, a former junior international team-mate of Derek's, agreed to become President of World Squash Day.
Peter's involvement was a poignant one. He was due to compete in the 2001 US Open in Boston but the build-up to the event coincided with the 9/11 terrorist attacks. It was rearranged for the following January and named the Memorial Open.
After winning the title, Peter flew back through the night with fellow pros John White and Paul Price to compete in the initial World Squash Day event at the famous, and now sadly demolished, Lambs Club in London. The event featured a 15-a-side match between teams from London and New York, competing for the Derek Sword Trophy, alongside an eight-man professional tournament, with White beating Price in an incredibly entertaining final. (A justifiably tired-looking Nicol had kindly dollied up a few volley nicks for White in the semi-final to get off court as quickly as he could!)
In 2003, Peter was competing in the Tournament of Champions inside Grand Central Terminal and went on to win the title, beating Thierry Lincou in the final. I was commentating at courtside with Jean De Lierre's SquashLive company.
One morning, Peter and I visited the New York Athletic Club, on the south side of Central Park, to hand over the Derek Sword Trophy, which was funded by Derek's colleagues at the Keefe, Bruyette and Woods (KBW) investment bank where he worked.
When we held the return match at NYAC, another former Scottish international, Martin Heath, made a guest appearance, as did fellow professionals Tim Wyant and John Russell, who beat the-then US number one 3-1 in an entertaining battle.
These were emotional, almost spiritual occasions. They showed how sport can bring people together, and help to heal wounds caused by the ills of society. The passion that was ignited for World Squash Day during those events is still evident today.

While many nations are showing encouraging signs of growth, we are fighting a global trend of diminishing numbers of people taking part in sport, largely due to electronic alternatives and lifestyle changes. In some countries, the need to come up with solutions to grow the game is desperately important.

We need action right now, before it is too late.

In 2012, we attracted 40,000 players who competed in one single global match to promote the Olympic Bid.

I want us all to do much, much better this year.

I believe the future of our wonderful sport is far more important than the Olympics.
Working in partnership with the World Squash Federation, the PSA Foundation and national federations on every continent, I hope we can all deliver some brilliant events to help safeguard the future of our sport and I look forward to leaders and ambassadors coming forward from every nation to support the cause.
ALAN THATCHER
Founder, World Squash Day